MUAHAHAHAHH! Muahahahahaaaaaaaaaaaaaaaa!!! BOO! I hope I didn't scare you too much! K, Ok, ok, even though I did a fall themed project doesn't mean that I can't get into the Halloween spirit!! This might scare you too... but I assure you that all these adhesives are harmless... I used ALL of these to create my project. I used a combination of Helmar's Craft Glue, 450 Quick Dry, Crackle Step 1 and 2, Liquid Scrap Dots and Craft and Hobby PVA Glue to put this entire project together. There are SO many things that I did with this clock that I can't even begin to share them all with you right now! I am going to tell you what I did using the Helmar Adhesives here, but you will have to tune into
UStream here
tonight at 8:30PM CST to see all the other really cool techniques I used while creating this clock.... there are A LOT! Make sure you are a follower of my blog and tune in tonight... I will be giving away Helmar Zapdots along with some bling bling! You can let me know you will be there
here
!
I love Halloween and everything about Halloween even creating Halloween projects, BUT... I really wanted and needed to make this fall project! My hubby re-did our bathroom 11 months ago and I STILL do not have anything hanging in it! So, I bought this clock at a rummage last summer for only 2 bucks and decided it needed to be in that bathroom! I had the perfect place for it... just not the perfect look as of yet ;)
UStream class
tonight to see all the awesome tehniques I used!
Here a few more close ups:
Happy Halloween!! I have all Helmar products 10% off at all times
here
including the Craft Glue, 450 Quick Dry, Crackle Step 1 and 2 and Liquid Scrap Dots!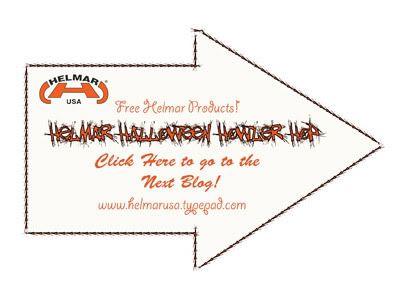 Here's your list of hoppers!
Helmar USA Design Team Blog-
http://helmarusa.typepad.com/blog/
Tracy Weinzapfel-
http://www.tracywburgos.typepad.com/
Erika Taylor -
http://taylordconcepts.blogspot.com/
Laura Achilles-
http://lauraachilles1.wordpress.com/
Marci Knecht-
http://www.marciknecht.blogspot.com/
Becky Teichmiller -
http://www.beckyteich.blogspot.com/
Shelly Hein-Simmons-
http://reelgirlsanimalhouse.blogspot.com/
Gayle Martin -
http://jgwm.blogspot.com/
Tanisha Long -
http://www.tanisharenee.blogspot.com/
Aymee Gandy-
http://www.southernbellescrapper.blogspot.com/
Cathy La Hay-
http://behindthesceneswithcathy.blogspot.com/
Pamela Young -
http://pamelasworldofscrap.blogspot.com/
Tina McDonald-
http://tinamcd-mysanity.blogspot.com/
Eva Dobilas -
http://evafromca.blogspot.com/
Karen Maldonado-
http://reallifeinpictures.blogspot.com/
Amy Teets-
http://amyteetsdesigns.blogspot.com/
SPECIAL Guest Designer Lolly Chops -
http://www.lollychops.com/lollychops/